About Devam
Devam's celebrated story was founded by the Jhaveri family six generations ago in India.
Devam's celebrated story unfolds six generations ago in India. The Jhaveri family founded the company with the sole intention of working endlessly to acquire the world's most prized gems. Once acquired, these beautiful stones are skillfully set into our exclusive designs to create flawless pieces of jewelry, fit for royalty. The surname Jhaveri is derived from the Arabic word Javahari, meaning jeweler. Creating stunning jewelry has always been in our blood. Over the years, our company has crafted one-of-a-kind pieces for many noble families across the Indian subcontinent.

We have travelled far and wide – often going to Middle Eastern countries such as Dubai in search for the market's most valuable Basra pearls. Our precious stones are handpicked: sapphires from the beautiful valleys of snow-covered Kashmir, rubies from the enigmatic mines of Burma and pearls from the blue waters of the Pacific. Today, our leaders attend the most prestigious international jewelry shows in Hong Kong, Italy and Las Vegas. They leave no stone unturned in finding the best gems for Devam's exceptional designs.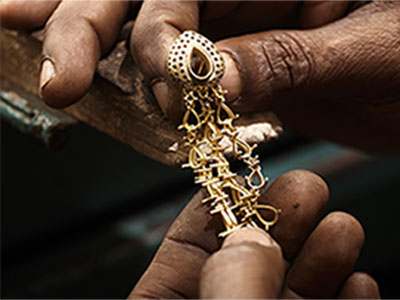 Devam's designs are not just distinctly set stones or unique craftsmanship of gold, they are part of a celebrated heritage passed down from one generation to the next. Each of our creations has a history, a story to tell. Every piece of jewelry is handmade by artists whose families have been in this profession for eras. Our pieces are carefully crafted for our gracious customers. We never recreate a piece – ensuring that our designs become a family heirloom, an exclusive piece of art available only to its owners.

Devam never compromises – the quality of gems used in these designs is impeccable. The people behind our company began working alongside their fathers, assorting diamonds and pearls, when they were but 12 years old. Their experience is unparalleled. Artisans of exquisitely crafted diamond jewelry, they are experts in judging each and every facet of a diamond – from color and cut to clarity and carat weight.
Over the years, Devam has expanded to Antwerp, Belgium: the world's diamond capital. Devam's third office, established in sunny South Florida in the United States of America, provides personal attention to a growing elite clientele in over 40 nations. We have immersed ourselves into designing custom-made gold and precious stone jewelry.

Working together from three continents, Devam creates one-of-a-kind luxury pieces. Our company's sole goal is ensuring that you, our customers, are presented with the jewelry of your dreams.